Welcome to TOP BLOGS BY CRAFTERS TOPLIST
Since 2006 we have had the best art, craft, sewing, knitting, needlepoint, designer, woodworking, painting, illustration, story telling, cross-stitch, free craft articles, doll making, folk art, primitive, country, seasonal, mixed media, abstract art, scrap-booking, e-products, crazy quilting, quilting, vintage, Victorian, shabby chic, printables, beading, gardening, food, altered art, candle making, Americana, holiday, animal crafts, wool felting, textile, food crafts, applique, basket making, abstract art, contemporary art, creative embroidery, watercolor art, wearable art, ribbon crafts, crewel, decorative painting, crochet, digital art, graphic art, dried floral design, fiber art, weaving, wedding crafts, baby crafts, fragrance crafts, gourd painting, home decor,paper crafts, jewelry making, lamp making, rug making, soap making, stamping, stenciling, tie-dying, pottery, handbag making, purse making, totes making, pocketbook making, polymer clay, potpourri, etc. blogs by the best artists and crafters on the web listed on our Top Blogs By Crafters toplist.


If you'd like to see over 500 blogs by artists and crafters please visit our main Top Blogs By Crafters website.
If you'd like to search our TOP BLOG BY CRAFTERS TOPLIST for our more popular categories just CLICK ON one of the categories below for the blogs in the category you're interested in:
Or, if you prefer to search by keyword, just enter the blog name, craft category or keyword in the search box below and then click SEARCH:
Site Of the Moment:
Gauche Alchemy: kits with a twist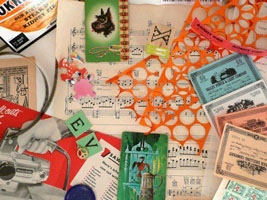 Discover the secret that every great scrapbooker, cardmaker, memory-keeper and multi-media artist knows. Whether you are new to the process or have already discovered the joy and flexibility inherent in a varied stash of inspiring supplies, Gauche Alchemy
Rank
Site
In
Out

101

Designs By Kat



0
2715

I am a portrait doll artist and designer. I teach hands on locally and on CD or online.
I make dolls from 10 inches to 6ft life size people. I work in several mediums, cloth, paper clay and sculpy. I make all types of dolls.

102

SympleTymes



0
1899

Symple Tymes
Presents Cloth Art
By: Sherrie Nordgren
YesterYear, Whimsical, Prim, Folk Art, Mix Media,
Also creating with Vintage Patterns

103

mrsnesbitt's place



0
938

A place where I can share the photographs and designs about the things that matter so much to me..... my home, my family, my garden, my friends, the beautiful area we live in, and the wonderful adventures we have on the back of our motorbike, always an in

104

Art and More



0
2011

Works of Art: Paintings, dolls, jewelry, ornaments and more.

105

Artmixter



0
533

A mixture of art and thought...with a bit of everyday life on the side.

106

Doll Makers Muse



0
861

Tidbits, Articles, Musings and Discoveries for Mixed Media Atists and Doll Makers

107

Patti LaValley Designs



0
672

This is where I share my artistic life and my art. I love all fiber art but especially art dolls.

108

Abyquilt



0
1034

A good friend is like warm quilt wrapped around the heart.

109

Artisan At Heart - Quilting and Longarm Adventures



0
576

Quilting is like breathing. If I can't do it, I get very cranky.

110

The Gathering Room



0
472

A special place on the web that I will share craft & swap ideas, along with trips and stories of everyday happenings and family memories

111

Snapdragon's garden



0
745

A candid account of building a business based on my twin passions of flowers and fabrics. Follow the development of new projects. Learn about the ups and downs of trying to market craft items in a congested market.

112

jennys-sewing-studio



0
854

SINGER, Janome and Baby Lock dealer offering full service, parts and classes. We sell quilt and craft fabrics and offer extensive classes.

113

Northbrook Designs



0
1152

I love being a crafter of all kinds. Dolls, painting, needlework and everything in between. I look forward to sharing blog links and ideas with others.

114

Needle and Clay



0
1527

I'm a dollmaker who offers a daily report on other dollmakers.

115

Iva's Creations



0
924

I am an artist who loves making vintage-style fancies and paper mache collectibles. I sell on eBay, Pfatt marketplace and from my website. Look forward to your visit.

116

gatherings100



0
1923

A long time crazy quilter who enjoys sharing the beautiful and fulfilling ventures of crazy quilting.



117

Pieces From My ScrapBag



0
561

If we are to live life in harmony with the Universe, we must all possess a powerful faith in what the Ancients referred to as fate. Currently, what we call it is destiny. From the movie "Serendipity"


118

Under Construction



0
955

Hi, I'm Melissa and this is my little corner of the blogosphere where I write about my attempts at craftiness.

119

Lemon Tree Tales



0
2078

Threaded Crafts, Doll Making, Quilts & Sewing

120

Pat Sloan's Place



0
1438

Life's a Journey
Feel The Twinkle!

121

Art by Helen Grossman



0
1173

This is blog site that showing my current work. I am working with different mediums, including fibers, paint, gourds, clays, beads, paper, found objects, etc.

122

Art Dolls - A Journey in Fiber



0
3597

Tips and techniques for making art dolls and all sorts of altered art. I do a little bit of everything and share how I do it all.

123

Marnie MacLean



0
1041

Filled with original free patterns and my blog which chronicles my adventures in knitting, crochetting, spinning and anything else that catches my fancy.

124

HELLOmynameisHeather.com



0
935

Heather Bailey is a fabric designer for Free Spirit, a pattern designer, and an avid seamstress. Visit her blog for free patterns, tutorials and inspiration of all sorts!

125

My Country Cottage



0
860

I will share with you some of my thoughts, daily life and what's new around here. I will post when I have new raggedy ann dolls, wood signs, home and garden decor for you!!!

126

Bittersweet



0
1484

Unique over one-hundred hand made by Bittersweet.

127

Staffordshire Garden Designs



0
1259

Exploring the world as a mixed media artist, I make original collage art charms, broken china jewelry,mixed media paper arts, and love trying new things usually several at a time.

128

TheKrazyKraftLady



0
3507

'Diary' & photographs of my Primitive, Vintage & Folkart Creations/Projects. E_patterns, *free* E-patterns, craft site spotlights and more.


129

lisajhoney's sweet things



0
870

I have a passion for sewing and papercrafts. At the moment i have been madly creating all sorts of felt food and would like to share any hints and tips with readers.

130

Bucks County Folk Art



0
539

Here in historic Bucks County, PA, I am surrounded by inspiration to preserve a bit of the past. I create warm and cozy folk art using old-fashioned materials of bygone days.

131

Linda's Blog



0
4070

Have you ever seen a doll you haven't loved? I haven't. My Linda's blog is filled with information about my Victorian, primitive, country, folk art dolls, crafts, sewing, e-patterns, blogs, websites and more.

132

Kitty Couture



0
1484

Sewing, stitching and kitty sweetness in Paris

133

Tips For Crafters On The Web



0
1696

"Tips for Crafters on the Web" blog is my experience during the last year with setting up a small business website. I wish that when I was setting up my crafts & design business that I had one source that I could go to for information. Just one source.

134

Smockery



0
903

A textile blog belonging to Kay Susan of Eastbourne, England. The blog shows examples of my work in creative embroidery.



135

Love Country Living



0
901

A simplier life. Made in the USA. Ramblings from a Country family and the country life. Crafts, critters, cooking and more...

136

SEWING WITH MOONBEAMS



0
1438

Sharing a little of my life and how my imagination takes shape into art dolls.

137

needle pulling thread designs



0
737

I am primarily a cloth dolls artist but also dabble in all kinds of crafts

138

Kitty & Me Designs



0
1135

A view of needlework, old and new through the eyes of a professional charted designer and textile artist. Crazyquilting, redwork, blackwork, tatting and many other techniques are discussed here along with the occasional pattern or tutorial.

139

Sherry's Creative Corner



0
2676

I'm a doll artist basicly but my blog has whatever I'm doing at the moment...sometimes it's wall art etc...I love all mediums and it's a great place to express that...plus there is a bit of personal there from time to time...

140

Lolo's Child



0
1391

A place to share, mostly my dolls in progress (DIPs), some other fiber and fabric art, perhaps a soap thought or two, and probably some public angst as I sort my brain!

141

The Best Free Craft Articles



0
2822

If you like FREE craft articles, patterns, tutorials, & tips you will love our blog. Come learn about crafts, dolls, scrapbooking, mixed media, knitting, quilting, sewing, graphics, and more from the best artists & crafters on the web.


142

Horizons



0
735

The art and soul of quilting.

143

Julia's Place



0
1700

My place to share my work and love of Crazy Quilting, Sre, beading and all things Victorian.

144

downunderdale



0
772

ramblings about textile art and other things relevant or not

145

dutch sisters



0
1070

a blog about all the creative things in my life

146

Artylady



0
851

An eclectic art and crafter, I enjoy paper arts and textile art

147

Ramblings of a Fabric Obsessor



0
822

I am a new quilter struggling to find time to fit everything all in! I am also working on losing weight and trying to find Mr. Right. I took up quilting in January 2007.

148

Rachael Rabbit



0
1294

I love everything that is handmade. I also love bunny rabbits. I try and mix the two on my website by sharing my projects, my favorite finds and the odd random thought.

149

KV Creative Designs Blog



0
1046

Blog for Artist Kathryn Virello who is a Mixed Media Altered Artist.

150

Else's Bellas Artes



0
1379

Arts & crafts (stamp carving, paper crafts, crochet, knitting, sewing, quilting and more!), free patterns, craft chat.
Page:
1
2
[3]
4
Last Update: Tue, 11.20.18 19:29
Next Update: Tue, 11.20.18 19:59
Next Reset: Mon, 12.03.18 13:31
Sites: 193
Powered By GoTop100.com