Welcome to TOP BLOGS BY CRAFTERS TOPLIST
Since 2006 we have had the best art, craft, sewing, knitting, needlepoint, designer, woodworking, painting, illustration, story telling, cross-stitch, free craft articles, doll making, folk art, primitive, country, seasonal, mixed media, abstract art, scrap-booking, e-products, crazy quilting, quilting, vintage, Victorian, shabby chic, printables, beading, gardening, food, altered art, candle making, Americana, holiday, animal crafts, wool felting, textile, food crafts, applique, basket making, abstract art, contemporary art, creative embroidery, watercolor art, wearable art, ribbon crafts, crewel, decorative painting, crochet, digital art, graphic art, dried floral design, fiber art, weaving, wedding crafts, baby crafts, fragrance crafts, gourd painting, home decor,paper crafts, jewelry making, lamp making, rug making, soap making, stamping, stenciling, tie-dying, pottery, handbag making, purse making, totes making, pocketbook making, polymer clay, potpourri, etc. blogs by the best artists and crafters on the web listed on our Top Blogs By Crafters toplist.


If you'd like to see over 500 blogs by artists and crafters please visit our main Top Blogs By Crafters website.
If you'd like to search our TOP BLOG BY CRAFTERS TOPLIST for our more popular categories just CLICK ON one of the categories below for the blogs in the category you're interested in:
Or, if you prefer to search by keyword, just enter the blog name, craft category or keyword in the search box below and then click SEARCH:
Site Of the Moment:
Victorian Dolls and Victorian Traditions Blog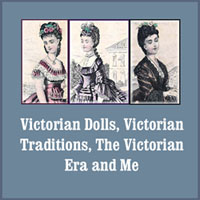 I have loved dolls, history, and the Victorian Era since I was a little girl and love to research the Victorian Era. I also love to design Victorian dolls. I hope you enjoy my Victorian Dolls, Victorian Traditions,The Victorian Era and Me Blog.
Rank
Site
In
Out

51

Clevelandgirlie

0
703

Fiber - I stitch it, paint it, burn it, melt it, add metal to it, cut it, shred it, twist it, wrap it and sew it back together again.

52

Gauche Alchemy: kits with a twist

0
736

Discover the secret that every great scrapbooker, cardmaker, memory-keeper and multi-media artist knows. Whether you are new to the process or have already discovered the joy and flexibility inherent in a varied stash of inspiring supplies, Gauche Alchemy

53

A Bit O' Shine

0
974

A creativity blog - I'm always trying new things! Photography to origami, knitting to decoupage. I love to create something from nothing or take something pre-made and generic and transform it. It's all about making do, reusing and keeping the cost low -

54

sredeluxe

0
1238

A Designer's Musings on Creativity & A Forum to Share the Inspiration ..... Whether in Silk Ribbon, Crazy Quilting or Beading ..... With a Bit of "What Ever" Tossed in for Good Measure!



55

StegArt

0
552

Mixed-media fiber artist. Visit my blog to see my latest creations in art quilts, fiber art, and mixed media.

56

Dessa Rae Original Art Dolls

0
808

One-of-a-kind Fine Art Soft Sculpture Babies. Sculpted with Love, "From my hands to your Heart." Dessa Rae Original Art Dolls are truly a unique work of art. www.dessadolls.com http://dessaraeartdolls.blogspot.com

57

Vintage Keepsake Trunk

0
893

A Collection of Primitive Folk Art handmade soft-sculpture offerings featuring Art Dolls, Home Decor, Holiday and Seasonal Decorations and Collectibles, all created with that time-worn look.


58

Artbymecindy

0
701

I display my Primitive Folk Art Dolls. I show dolls I have for sale and links to my selling sites. Stop by and see what I might be creating!

59

Prairie Creations Ornaments

0
541

A blog about prairie life and the creations of my quilted ball ornaments.

60

Brenda Ryan and Thimblestitch

0
857

Designer of Stitchery,hand embroidery, dolls , embroidered boxes,quilts.

61

The T-Cozy

0
1079

T-Party's Latest News and Views

62

Dances With Teddy Bears

0
671

Follow a budding teddy bear artist's journey. See what's going on in and around my studio!

63

Artisan At Heart - Quilting and Longarm Adventures

0
574

Quilting is like breathing. If I can't do it, I get very cranky.

64

Maureen's Vintage Acquisitions

0
488

I am primarily a crazy quilter, I am using my blog to show my work, teach others some techniques, and am hoping to inspire others to try this versatile stitching art.

65

cornwall craftystamper

0
757

A Stamping and scrapping blog with hints, tips, tutorials, challenges and much much more

66

Another Daft Idea - Blog Division

0
375

Follow the adventures of a woman who quit her day job to be an artist. Follow her on trips to find source materials for her collages and mixed media projects. Most importantly get updates from the CEO, Bentley S. Dogg.

67

Paperglitter-Party printable crafts, Kawaii Decor,

0
338

From paper toys, to stationery sets, clever decorating paper crafts projects and party sets, PaperGlitter offers the ability to create lovely paper things using "do it yourself" PDF file templates also knows as "printables". The philosophy of paperglit

68

Robin Willson Designs

0
869

printable gift bags, boxes, cards, scrapbooking

69

Dyeing2Design

0
255

Musings of a dyer, knitter and fiber artist from Lord of the Rings and Narnia country, the South Island of New Zealand. Also a visual arts student doing drawing, painting, sculpture, photography and graphic design.

70

Hawaiian Menehune

0
294

Hawaiian Collectible Menehunes are miniature dolls who were individually handcrafted on the Big Island of Hawaii with the greatest attention to detail creativity, inspiration, and love. All dolls, cradles, and canoes are authentic and originally designed,

71

Carol Heppner's Studio

0
433

I'm a published, mixed-media artist, writer, and Design Member of CHA.
On this blog you'll find tips, tutorials and photographs from my studio.
Rubber stamping, scrapbooking, wearable arts, and card making are just a few of my favorite things.

72

Crear es creer

0
439

Handmade news, crochet, knit, weaving, recycling. Tutorials and interviews to crafty buddies.

73

Teresa's Country Treasures

0
261

Quality country clipart, graphics, printables, web page backgrounds, and digital art for all your scrapbooking and crafting projects

74

Tips For Crafters On The Web

0
1694

"Tips for Crafters on the Web" blog is my experience during the last year with setting up a small business website. I wish that when I was setting up my crafts & design business that I had one source that I could go to for information. Just one source.

75

Paper Kawaii

0
901

Paper Kawaii offers free tutorials, templates, diagrams of cute papercraft, including origami, kirigami, paper models and more!
All free!

76

Scottish Lion and Friends

0
565

wrought iron garden sculpture and home accessories,hand woven textiles for the home plus other artist and crafters that we help promote at our Maine location

77

CardMonkey - Live from the PaperJungle

0
627

Papercrafting at its finest, at least in the opinion of one fine monkey.

78

Melandollys

0
296

My site is about my journey creating my art dolls that I call Melandollys.

79

Kitty Couture

0
1481

Sewing, stitching and kitty sweetness in Paris

80

TheKrazyKraftLady

0
3503

'Diary' & photographs of my Primitive, Vintage & Folkart Creations/Projects. E_patterns, *free* E-patterns, craft site spotlights and more.


81

2chattychicks

0
46

Teaching with an eclectic mind about repurposing old furniture, faux finishing, home decor, teaches about acrylic paint, milk paint, chalky paint. WE talk about what we are doing that day or things we find interesting.

82

Simply the Glitter

0
68

Addicted to anything glittery! Blog about creating my putz houses and repurposing jewelry!

83

Marnie MacLean

0
1015

Filled with original free patterns and my blog which chronicles my adventures in knitting, crochetting, spinning and anything else that catches my fancy.

84

HELLOmynameisHeather.com

0
932

Heather Bailey is a fabric designer for Free Spirit, a pattern designer, and an avid seamstress. Visit her blog for free patterns, tutorials and inspiration of all sorts!

85

Tampa Bay Crochet

0
278

Free original crochet patterns, tips, tutorials, sales and giveaways.

86

Crafterstown.com Blog

0
94

Crafterstown is a online marketplace to buy and sell arts and crafts.

87

Bittersweet

0
1423

Unique over one-hundred hand made by Bittersweet.

88

knitsofacto

0
127

Knitter, photographer, country gal, blogger. Free knitting patterns, lots of crafty tips, plenty of conversation

89

Kerenbakers Blog

0
554

A fun papercrafting site with lots of ideas, stamping, some tutorials and a peek into my hectic life as a mum of 5

90

kreatin' with kimberleeannkreations

0
593

Cards for holidays, birthdays, weddings - any occasion - as well as gift tags, bookmarks, and much more created and quilted the primitive "kimberleeannkreations" way.

91

What Shall I Make Today

0
642

A record of my work with a few tutorials thrown in. I use a wide range of mediums in my work, but regularly use Tim Holtz Distress Inks, Sizzix, Nestabilities, Magnolia Tilda, Sweetpea Stamps and Promarkers.

92

Quilting Stitching and Sew On

0
551

It's a blog about my passion: Patchwork, quilting, stitchery and all handmade stuff

93

Top Blogs By Crafters Blog

0
699

Do you like blogs - especially blogs written by artists and crafters? If you do then please subscribe to our Top Blogs By Crafters Blog. It's filled to the brim with information on our Top Blogs By Crafters toplist. Check it out and see what's going on.

94

Susiedolls

0
524

My site is a log to try and keep me focused on all the creative things I do mostly hand sewing, but my first love is dolls of all kinds and in particular doll costuming.

95

By Your Hands

0
704

Dedicated to the promotion of handmade and the crafters who are trying to add to the family support by the work and expression of their hands.

96

Rock River Stitches

0
927

I am a primitive crafter of handmade wares along with my own original patterns. My hobbies are photography, gardening and sewing. You can see many posts on those subjects on my blog.

97

HJM Art Gallery Blog

0
460

Featuring bold, colorful, original acrylic modern art, whimsical paintings as well as giclee art prints by contemporary California artist Helen Janow Miqueo as well as handmade shops around the world and other interesting finds.

98

Stamps, Paper, and Ink

0
920

A tapestry of design using rubber stamps to create original cards, pages and gift items.

99

Olde Annie Primitives

0
1209

I love creating seasonal ornies and tucks and one of a kind gatherings, greeters, shelf sitters and much more! This is my own little corner to share those with you.

100

Craft-Luver Marianna

0
529

Making quilts or anything that involves fabrics is my life and I love to talk about it on my blog!
Page:
1
[2]
3
4
5
Last Update: Sun, 03.26.17 1:18
Next Update: Sun, 03.26.17 1:48
Next Reset: Tue, 04.04.17 23:22
Sites: 209