Welcome to TOP BLOGS BY CRAFTERS TOPLIST
Since 2006 we have had the best art, craft, sewing, knitting, needlepoint, designer, woodworking, painting, illustration, story telling, cross-stitch, free craft articles, doll making, folk art, primitive, country, seasonal, mixed media, abstract art, scrap-booking, e-products, crazy quilting, quilting, vintage, Victorian, shabby chic, printables, beading, gardening, food, altered art, candle making, Americana, holiday, animal crafts, wool felting, textile, food crafts, applique, basket making, abstract art, contemporary art, creative embroidery, watercolor art, wearable art, ribbon crafts, crewel, decorative painting, crochet, digital art, graphic art, dried floral design, fiber art, weaving, wedding crafts, baby crafts, fragrance crafts, gourd painting, home decor,paper crafts, jewelry making, lamp making, rug making, soap making, stamping, stenciling, tie-dying, pottery, handbag making, purse making, totes making, pocketbook making, polymer clay, potpourri, etc. blogs by the best artists and crafters on the web listed on our Top Blogs By Crafters toplist.


If you'd like to see over 500 blogs by artists and crafters please visit our main Top Blogs By Crafters website.
If you'd like to search our TOP BLOG BY CRAFTERS TOPLIST for our more popular categories just CLICK ON one of the categories below for the blogs in the category you're interested in:
Or, if you prefer to search by keyword, just enter the blog name, craft category or keyword in the search box below and then click SEARCH:
Site Of the Moment:
Travel, fibre and thread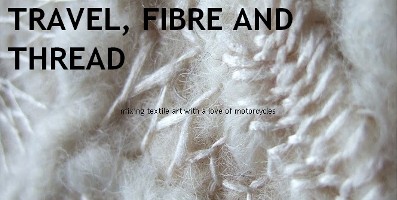 textile art with a dose of motorcycle fun
Rank
Site
In
Out

1

Gone Felting



1
401

Wet felting of accessories and home decor pieces

2

The T-Cozy



0
1105

T-Party's Latest News and Views

3

Rag Rescue



0
1195

Behind the scenes of Rag Rescue's fabric treasure trove selling a range of recycled vintage textiles, embellishments and haberdashery items for designers and crafters

4

Brenda Ryan and Thimblestitch



0
875

Designer of Stitchery,hand embroidery, dolls , embroidered boxes,quilts.

5

Teri Berry



0
483
The journey of a home-crafter to textile artist (felt maker), business owner and designer-maker.

6

Dances With Teddy Bears



0
675

Follow a budding teddy bear artist's journey. See what's going on in and around my studio!

7

Two Crafty Mules



0
422

Crafty goodness varying from tips to projects and swaps.

8

Clevelandgirlie



0
716

Fiber - I stitch it, paint it, burn it, melt it, add metal to it, cut it, shred it, twist it, wrap it and sew it back together again.

9

Gauche Alchemy: kits with a twist



0
743

Discover the secret that every great scrapbooker, cardmaker, memory-keeper and multi-media artist knows. Whether you are new to the process or have already discovered the joy and flexibility inherent in a varied stash of inspiring supplies, Gauche Alchemy

10

A Bit O' Shine



0
980

A creativity blog - I'm always trying new things! Photography to origami, knitting to decoupage. I love to create something from nothing or take something pre-made and generic and transform it. It's all about making do, reusing and keeping the cost low -

11

Dessa Rae Original Art Dolls



0
816

One-of-a-kind Fine Art Soft Sculpture Babies. Sculpted with Love, "From my hands to your Heart." Dessa Rae Original Art Dolls are truly a unique work of art. www.dessadolls.com http://dessaraeartdolls.blogspot.com

12

Joannes Wee Bears



0
563

Cajun Cuties by Joanne Noel of Wee Bears. Miniature Crocheted Teddy Bears and Friends.

13

Artbymecindy



0
708

I display my Primitive Folk Art Dolls. I show dolls I have for sale and links to my selling sites. Stop by and see what I might be creating!

14

the creative closet



0
1039

my little corner of the stamping and scrapping world

15

Waste Not Do Want



0
409

... here's the tale of a renaissance womans' committment to create beauty from collected, scrounged, inherited, fossicked and acquired hoardes. Gorgeous secondhand, pre-loved stuff, regarded by others as waste, are her treasures. Time now to recycle ~ re

16

Cecil and Co.



0
493

specializing in one of a kind and limited edition handbags that have a modern look with vintage styling.

17

My Little Space On The WWW



0
706

This is My Little Space On The WWW where I share my love of crafting, (mainly stamping). I also love to make my own flowers. I'm a DT member of : Passion for ProMarkers, Wags 'n Whiskers, Truly Scrumptious, Pollycraft & Spesch Designer Stamps.

18

Bare Cub Designs Blog



0
614

Bear making by Helen Gleeson

19

Art Chick Studio



0
793

My online art studio is filled with my art, crafts, photography, glass art, ideas and inspiration!

20

Bearing All



0
1369

I create original teddy bears for adult collectors. 'Bearing All' chats about my life as a bear artist and beyond.

21

Prairie Creations Ornaments



0
547

A blog about prairie life and the creations of my quilted ball ornaments.

22

HowDoesShe



0
988

Crafting tutorials. Top 30 Neighbor Christmas Gifts. Homemade gift ideas. Family bonding ideas.
A site to help women, mothers, wives, become a little better!

23

Diarikom



0
640

a picture of life which is made up of short character studies and photos.

24

Wish Upon A Quilt



0
754

Site for dedicated quilting and sewing enthusiasts

25

Tag Along Teddies



0
1176

The continuing saga of a craft designer! A chatty, humorous chronicle of my craft and life adventures, new craft and bear pattern designs and life in general.

26

Olde Annie Primitives



0
1214

I love creating seasonal ornies and tucks and one of a kind gatherings, greeters, shelf sitters and much more! This is my own little corner to share those with you.

27

ethel and edna



0
470

ethel & edna are 2 "mature" ladies (at least that's what their Uni told them). Being in their late 30s/early 40s doesn't mean they're getting bus passes just yet. They love to paint, stitch, and generally hoard "treasure" and make stuff - usually wi

28

vivienne sliwka



0
1081

Inspiration, people, places and my creative path.

29

Middle of Nowhere



0
1158

I am Professional children's illustrator, toy artist and collectible toy maker living in a beautiful part of the Cotswolds countryside. My blog is all about crafting, countryside, cooking and cricket. Not all at once mind...

30

Stamps, Paper, and Ink



0
926

A tapestry of design using rubber stamps to create original cards, pages and gift items.

31

Primitive Pursuits: Handpainted Buttons



0
724

I create very limited editions of hand made, hand painted wooden and ceramic (sewing) buttons. My buttons are mainly in a primitive or altered art style. I also dabble in altered art, fused glass and ceramic jewelry.

32

dogdaisychains



0
2532

A mainly visual blog outlining inspiration, art, textiles, and life with some tutorials.

33

Mixed Media & Digital Collage by Peggi Meyer Graminski



0
888

Mixed media and digital collage. Shabby chic, French, country cottage style crafts. I try to post new things everyday, so please drop in for a visit!

34

A Day in the Life with Gina K.



0
939

Papercrafting with Gina K. from Gina K. Designs. Here you will find samples, tutorials, and giveaways with a little bit of life mixed in.

35

Melody Crust - Fiber Artist



0
554

My quilts are colorful, graphic, vibrant and joyful!! I use color and texture to explore the glories of nature. Realism or abstraction, are used as best fits a theme or concept. I enjoy the challenge and excitement of translating my vision into quilts thr

36

Rubber Stamps & Paper Crafts Blog



0
767

Rubber Stamping and Paper crafting of all sorts. From Cuttlebugging to digital and hybrid story books and projects, you'll find it in this blog.


37

Aunt Mannys Creations



0
792

Delve into the world of a primitive crafter. Journaling family, friends and business. Visually stimulating and much to see. Buy something, swap something or just take a gander.

38

Victorian Dolls and Victorian Traditions Blog



0
817

I have loved dolls, history, and the Victorian Era since I was a little girl and love to research the Victorian Era. I also love to design Victorian dolls. I hope you enjoy my Victorian Dolls, Victorian Traditions,The Victorian Era and Me Blog.

39

Carina's Craftblog



0
1043

My name is Carina and this is my blog. You'll find embroidery, crochet, a bit of drawing, flowers and lots of colour. Thank you very much for visiting, it is nice to have you here.

40

Louise Peers Miniature Bears



0
763

Miniature TeddyBears and Friends lovingly handsewn by myself.

41

Crear es creer



0
442

Handmade news, crochet, knit, weaving, recycling. Tutorials and interviews to crafty buddies.

42

Contemporary Embroidery



0
742

Thoughts of an aspiring embroidery designer.

43

BeBox



0
397

BeBox Blog is all about my Etsy store, BeBox and the things I make... mostly embellished boxes and textile jewelry. I do custom work for any occasion and I love to do so!

44

Maureen's Vintage Acquisitions



0
496

I am primarily a crazy quilter, I am using my blog to show my work, teach others some techniques, and am hoping to inspire others to try this versatile stitching art.

45

A Life Unrehearsed



0
773

My personal blog where I share my love for life, friends and papercrafts, rubber stamping, card making and scrapbooking! Enter in, I'm always creating something! Love stamps and ink, the possibilities are endless!

46

CLARE'S CRAFTROOM



0
858

Clare's Craftroom designs and sells Australian craft patterns for stitcheries, dolls and decorative painting .

47

StegArt



0
562

Mixed-media fiber artist. Visit my blog to see my latest creations in art quilts, fiber art, and mixed media.

48

Sew in Love



0
775

Blog of my embroidery of various types, plus the artwork that is part of the design process, some paper crafts and other general things.

49

Fired With Imagination



0
812

Hi, I'm Joy. I am a Craftsman of the Guild of Enamellers and a Senior Art Clay Instructor. I love having fun with Art Clay Silver, Enamel, Glass & Heat. I teach it, work it, make it and sell it! Follow my blog to see what I am up to and check out my websi

50

kreatin' with kimberleeannkreations



0
595

Cards for holidays, birthdays, weddings - any occasion - as well as gift tags, bookmarks, and much more created and quilted the primitive "kimberleeannkreations" way.
Page: [1]
2
3
4
Last Update: Tue, 08.14.18 9:27
Next Update: Tue, 08.14.18 9:57
Next Reset: Tue, 09.04.18 12:25
Sites: 193
Powered By GoTop100.com