Welcome to TOP BLOGS BY CRAFTERS TOPLIST
Since 2006 we have had the best art, craft, sewing, knitting, needlepoint, designer, woodworking, painting, illustration, story telling, cross-stitch, free craft articles, doll making, folk art, primitive, country, seasonal, mixed media, abstract art, scrap-booking, e-products, crazy quilting, quilting, vintage, Victorian, shabby chic, printables, beading, gardening, food, altered art, candle making, Americana, holiday, animal crafts, wool felting, textile, food crafts, applique, basket making, abstract art, contemporary art, creative embroidery, watercolor art, wearable art, ribbon crafts, crewel, decorative painting, crochet, digital art, graphic art, dried floral design, fiber art, weaving, wedding crafts, baby crafts, fragrance crafts, gourd painting, home decor,paper crafts, jewelry making, lamp making, rug making, soap making, stamping, stenciling, tie-dying, pottery, handbag making, purse making, totes making, pocketbook making, polymer clay, potpourri, etc. blogs by the best artists and crafters on the web listed on our Top Blogs By Crafters toplist.

If you join our Top Blogs By Crafters toplist your blog will also be listed as a member of Top Blogs By Crafters website.
If you'd like to see over 500 blogs by artists and crafters please visit our main Top Blogs By Crafters website.
If you'd like to search our TOP BLOG BY CRAFTERS TOPLIST for our more popular categories just CLICK ON one of the categories below for the blogs in the category you're interested in:
Or, if you prefer to search by keyword, just enter the blog name, craft category or keyword in the search box below and then click SEARCH:
Site Of the Moment:
Pieces From My ScrapBag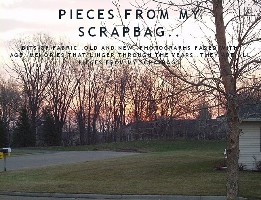 If we are to live life in harmony with the Universe, we must all possess a powerful faith in what the Ancients referred to as fate. Currently, what we call it is destiny. From the movie "Serendipity"

Rank
Site
In
Out

1

Cherished Handmade Treasures

83
928

Fun, inspirational craft projects. Free crochet, knit & sewing patterns. A treasure trove of DIY home projects--including the patterns and instructions. Favorite family recipes, even gourmet dog treats! An endless supply of great ideas.

2

Ro Bruhn

24
292

I use my blog to show what I'm working on and anything to do with my art. I make hand made fabric and paper journals, jewellery, paintings, hand carved stamps, textile art, printing, mosaics etc. I also teach workshops in most of my art forms.

3

Greeneyez2 Dolls and Folk Art

20
3094

Personal Blog and crafter of dolls, bears, crochet, jewelery, folk art and who knows what else?

4

Silk Ribbon Embroidery

17
647

Devoted to Silk Ribbon Embroidery
Tutorials in Stitches, Individual
Flowers, Free Designs and Hints.

5

Needle and Clay

16
1218

I'm a dollmaker who offers a daily report on other dollmakers.

6

Capadia Designs

16
1147

Daily postings primarily featuring Cricut and the Design Studio program. Hundreds of free .cut files, tutorials and videos. Product reviews, project ideas, shared creativity and lots of fun!

7

dogdaisychains

14
2175

A mainly visual blog outlining inspiration, art, textiles, and life with some tutorials.

8

Karen Combs' Blog

13
877

Karen Combs' Blog: My life, thoughts, quilts and adventures as a traveling quilt teacher.

9

Tag Along Teddies

10
798

The continuing saga of a craft designer! A chatty, humorous chronicle of my craft and life adventures, new craft and bear pattern designs and life in general.

10

Fired With Imagination

10
478

Hi, I'm Joy. I am a Craftsman of the Guild of Enamellers and a Senior Art Clay Instructor. I love having fun with Art Clay Silver, Enamel, Glass & Heat. I teach it, work it, make it and sell it! Follow my blog to see what I am up to and check out my websi

11

Created By You

9
855

Rubber Stamping, Cards, Free Tutorials and more!

12

Olde Annie Primitives

9
921

I love creating seasonal ornies and tucks and one of a kind gatherings, greeters, shelf sitters and much more! This is my own little corner to share those with you.

13

Kids Birthday Party Ideas

9
554

Kids Birthday Party Ideas is not only a site where you can find ideas for party themes, but I also feature lots of crafts & party decorating ideas that is easy on your budget and can be adapted to suit any theme you choose for your child's birthday party.

14

Else's Bellas Artes

8
1041

Arts & crafts (stamp carving, paper crafts, crochet, knitting, sewing, quilting and more!), free patterns, craft chat.

15

Natalie Ross In Stitches

8
1767

Pop into my world of stitching and say hello.I promise I will keep you "In Stitches"

16

SEWING WITH MOONBEAMS

8
1115

Sharing a little of my life and how my imagination takes shape into art dolls.

17

TheKrazyKraftLady

8
3265

'Diary' & photographs of my Primitive, Vintage & Folkart Creations/Projects. E_patterns, *free* E-patterns, craft site spotlights and more.


18

Vintage Keepsake Trunk

7
629

A Collection of Primitive Folk Art handmade soft-sculpture offerings featuring Art Dolls, Home Decor, Holiday and Seasonal Decorations and Collectibles, all created with that time-worn look.


19

Vintage Fabric

7
81

About the vintage fabric I sell, where it comes from and how it us used.

20

Staffordshire Garden Designs

7
893

Exploring the world as a mixed media artist, I make original collage art charms, broken china jewelry,mixed media paper arts, and love trying new things usually several at a time.

21

Rag Rescue

7
792

Behind the scenes of Rag Rescue's fabric treasure trove selling a range of recycled vintage textiles, embellishments and haberdashery items for designers and crafters

22

It's Just Frankly Kute

6
1109

My site is about the plush stuffed animals I create, cloth dolls, rag rugs, crafts I create, contests, recipes, free craft projects, or ideas, my quilts, pillows and what ever else I can think up.

23

Linda's Blog

6
3798

Have you ever seen a doll you haven't loved? I haven't. My Linda's blog is filled with information about my Victorian, primitive, country, folk art dolls, crafts, sewing, e-patterns, blogs, websites and more.

24

Bearing All

6
976

I create original teddy bears for adult collectors. 'Bearing All' chats about my life as a bear artist and beyond.

25

Scottish Lion and Friends

6
299

wrought iron garden sculpture and home accessories,hand woven textiles for the home plus other artist and crafters that we help promote at our Maine location

26

Art by Helen Grossman

6
872

This is blog site that showing my current work. I am working with different mediums, including fibers, paint, gourds, clays, beads, paper, found objects, etc.

27

KV Creative Designs Blog

5
781

Blog for Artist Kathryn Virello who is a Mixed Media Altered Artist.

28

Louise Peers Miniature Bears

5
445

Miniature TeddyBears and Friends lovingly handsewn by myself.

29

Angels, Art, and Attitude

5
434

Mixed media art (and occasional writings) by Cia Williford.

30

Embroidery Treasures

5
2018

Fabric lovers, quilters and seamstresses can gain new ideas, helpful tips, and fun projects relating to sewing, quilting and machine embroidery!

31

Robin Willson Designs

5
530

printable gift bags, boxes, cards, scrapbooking

32

Art and More

4
1702

Works of Art: Paintings, dolls, jewelry, ornaments and more.

33

Dolls Are My Canvas Within My Soul

4
4738

I'm a doll artist who loves working in lots of mediums such as cloth, clay, apoxie sculpt, etc.
I also create other works of art such as ATC's, purses, cards, etc.

34

FitzBirch crafts from the cupboard

4
593

Sisters and Nieces crafting across one continent

35

Holly's Craft Blog

4
410

Welcome! This is where I blog about my crafts, sewing, crocheting, knitting, dollmaking, doll clothes with a fellow crafter/business person review thrown in "For The Love".

36

Marie's Country Woodcrafts

4
945

Handmade and hand painted country and primtive home decor. I like to paint on wood and one of a kind recycled items. All my lettering is done with a brush I do not use stencils. I also sell e-patterns

37

Top Blogs By Crafters Blog

3
367

Do you like blogs - especially blogs written by artists and crafters? If you do then please subscribe to our Top Blogs By Crafters Blog. It's filled to the brim with information on our Top Blogs By Crafters toplist. Check it out and see what's going on.

38

Let's Talk About.......

3
531

I named my blog after my 3 year old's favorite phrase - "Let's talk about...". Join me, let's have a cup-a-tea and talk about dolls, crafts, exercising or other fun topics.

39

AngelSan Creation

3
867

Life and creations of a French stitcher/crafter in the UK. CrossStitch, crochet, and cute things !

40

Aunt Mannys Creations

3
515

Delve into the world of a primitive crafter. Journaling family, friends and business. Visually stimulating and much to see. Buy something, swap something or just take a gander.

41

Northbrook Designs

2
929

I love being a crafter of all kinds. Dolls, painting, needlework and everything in between. I look forward to sharing blog links and ideas with others.

42

Primitive Witch

2
250

Witchy Primitives
Every Witch Needs some accessories!
Doesn't She?

43

kreatin' with kimberleeannkreations

2
346

Cards for holidays, birthdays, weddings - any occasion - as well as gift tags, bookmarks, and much more created and quilted the primitive "kimberleeannkreations" way.

44

Another Daft Idea - Blog Division

2
207

Follow the adventures of a woman who quit her day job to be an artist. Follow her on trips to find source materials for her collages and mixed media projects. Most importantly get updates from the CEO, Bentley S. Dogg.

45

The Magic Bean

2
1486

New, Reviews and the Cloth Doll Muse - Colleen Babcock goes on and on about making cloth art dolls.

46

Cross stitch

2
505

Fine art & Victorian cross stitch patterns available by post or download. Also many freebies available.

47

Teri Berry Creations

1
51

The journey of a home-crafter (felt maker and willow sculptor) to business owner and designer-maker.

48

anniescupboards

1
1177

Primitive Handmade Folk Art Dolls

49

Rachael Rabbit

1
1195

I love everything that is handmade. I also love bunny rabbits. I try and mix the two on my website by sharing my projects, my favorite finds and the odd random thought.

50

From My Cherry heart

1
1241

Enter a stranger....Leave as a friend
You are invited to come and visit ... the tea kettle is always warm!
Please visit Linda Walsh Originals Websites and Blogs
Would you like to read more about Linda Walsh Originals? If so, just CLICK HERE!

Need help - EMAIL LINDA
Visitors to Top Blogs By Crafters Toplist
Page: [1]
2
3
4
5
6
7
Last Update: Mon, 03.10.14 0:34
Next Update: Mon, 03.10.14 1:04
Next Reset: Tue, 03.18.14 14:29
Sites: 313